Hereford Hills Chisum
"Chisum"


Canis Major Fancy Freckles x Fox Run Frazzle
12", Broken Coat, Tri Color
DOB 8/12/04
We are so fortunate to have had Chisum.
Bred by Hereford Hills Farm, Chisum was closely related to our star Scamper. Chisum was a surprise gift from Scamper's breeder after we tragically lost Scamp.

SWJRTN , Denton, TX
Spring 2005
Puppy Champion
Chisum had a constantly top show record throughout her first year of showing.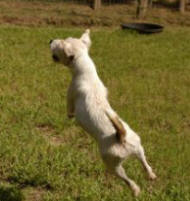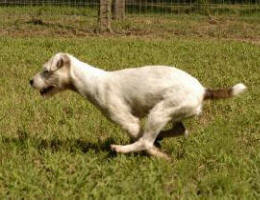 Chisum was "all-terrier" - a wound-up ball of energy but eager to please & easy to handle.
She loved everyone and every dog.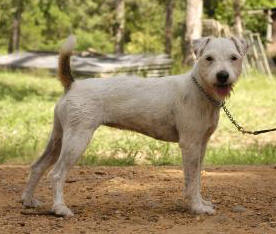 Chisum's conformation was a strong statement of the JRTCA Breed standard.
Her chest was small and flexible.




Beautiful & Simply Cute.
If you are interested in learning more about our exceptional working Jack Russell Terriers, upcoming litters or stud services, please call or send us an e-mail. We look forward to hearing from you!

High Range Jack Russell Terriers
Kathleen and Beau White
2438 FM 535
Rosanky, Texas
78953 USA
Ph: (830) 839-4666
E-mail: [email protected]

This web site was last updated on 03/14/2017
Copyright � 2001-2017 High Range Jack Russell Terriers
All rights reserved