R.I.P.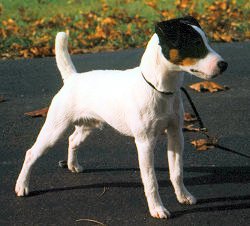 EacAsh Creek Banshee x Riverview Flare
12.25", tricolor, smooth coat
dob 11/27/96
High Range Valor is the great, great, great grandson of Ash Creek Chase. Chase was a gentleman and an extraordinarily valuable stud dog. He was an extremely correct, fine moving, strong but quite small terrier. Riverview Flare, the sire
of Chase, is widely regarded as the most influential foundation sire of the American Jack Russell. Chase extended Flare's extraordinary genetic prepotency in six generations of High Range Terriers,
Bred by Teresa and Mary Gottlieb of Warwick, NY,
Chase had a distinguished show career before he
moved West to keep warm all year long!



Chase typically passed on his pure black
and pure tan markings. At 5.5 years,
Chase's tri-color was as starkly delineated
as when a pup.



R.I.P.

Tortilla Flat Lil'
Achin' Acres Gretchen by Ash Creek Chase

An outstanding daughter of Chase, Lil won multiple championships. Like her father Chase, she was a small but
powerful package and an amusing, delight to be around. Lillianna is the mother of our High Range Marianna,
five times top national winner in Open Conformation, Family, Three Generations and Veterans.


Best Family ... JRTCA National Trial

Ash Creek Banshee (Chase's Mother) in one of her two wins as Best Family at the
JRTCA National Trial. Banshee is the only female to win this coveted award at two
National Trials. The Banshee x Flare cross, by Teresa Gottlieb of Ash Creek, was a special one,
producing Chase and other outstanding terriers.



High Range Jack Russell Terriers
Kathleen and Beau White
2438 FM 535
Rosanky, Texas
78953 USA
Ph: (830) 839-4666
E-mail: [email protected]

This web site was last updated on 03/14/2017
Copyright © 2001-2017 High Range Jack Russell Terriers
All rights reserved